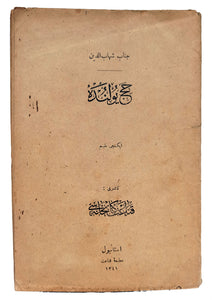 [HAJJ TRAVEL / ARABIA THROUGH THE EYES OF A MODERN TURKISH POET] Hac yolunda. [i.e. On the way of Hajj].
$37500

$375.00
Tax included.
Shipping
calculated at checkout.
---
---
CENAB SEHABEDDIN, (1870-1934), Matbaa-i Kanaat., Ist., [AH 1341] = 1925.
Original wrappers. Cr. 8vo. (20 x 14 cm). In Ottoman script (Old Turkish with Arabic letters). 238 p. Hegira 1341 = Gregorian 1925. Second Edition.
Scarce early edition of this narrative journey to Mecca by the late nineteenth and early twentieth-century poet and doctor Cenab Sahabeddin (1870-1934), which was composed of his 17 letters written while he was traveling by steamer from Istanbul to Alexandria, and then passing through Cairo, Suez, Tih, and Mecca. The book was completed in 1909. 
Özege 6535 / 2.