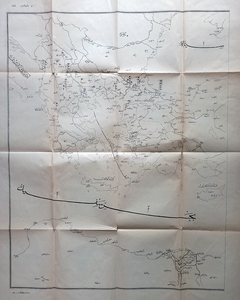 [GREECE, THE ARCHIPELAGO, MEDITERRANEAN SHORES OF NORTH AFRICA, AND WEST ANATOLIA] [Plan of Greece showing the Second Battle of Çatalca]
$12500

$125.00
Tax included.
Shipping
calculated at checkout.
---
---
BURSALI KAYMAKAM MEHMED NIHAD BEY, (1886-1928).
Istanbul, 1340 AH = 1924.
Original b/w map. 70x57 cm. In Ottoman script. Folded. No scale info. A huge plan showing The Second Battle of Çatalca fought between 03 February 1913 and 03 April 1913 was a major "continuous skirmish" of the First Balkan War.
The battle consisted of a series of thrusts and counter-thrusts by both the Ottomans and the Bulgarians. On 20 February the Ottomans, in coordination with a separate attack from Gallipoli, charged the Bulgarian positions. Although the Bulgarians repulsed the initial attack, they were weakened enough that they withdrew over fifteen kilometers to the south and twenty kilometers to the west to secondary defensive positions; but eventually, the lines returned to essentially the originals. The separate siege of Edirne resulted in its loss to the Bulgarians on 26 March, sapping Ottoman morale; and with heavy Bulgarian losses to both fighting and cholera, the battle dwindled down and ceased by 3 April 1913. On 16 April a second ceasefire (armistice) was agreed to, ending the last fighting in the war. Lieutenant Colonel Mehmet Nihat Bey of Bursa who was born in 1886 accomplished to write 39 books about military history which are including his war experience and his translation works. Nihat Bey who is the first and the most important military historian in the Republic of Turkey was an intellectual person rather than a soldier. He meticulously evaluated many mistakes and points should learn about war by an objective eye in his works. Although it passed a century from the time these books had been written this great person couldn't have been totally discovered by researchers yet. The first military historian in the Republic of Turkey  Mehmet Nihat Bey, participated in Tripoli, Balkan, Gallipoli, and the Turkish War of Independence. He taught in a military academy for many years and he impressed many staff officers in terms of idea. During the first years of the republic era in Turkey he lectured about military history and until the last year before he died he had given so useful pieces of information in the warfare of Çanakkale for visitors. Nihat Bey evaluated the conditions about the period of his life and the wars he participated by an objective view and he left great materials for the next generations succeeding him. He enlightened Turkish recent history by writing the events which he had witnessed. Studies of Nihat Bey have an important impact on the researchers who want to have knowledge about Balkan and Gallipoli wars which fulfilled their 100th anniversary. 
Map Turkish military maps Balkan Wars, (1912-1913)