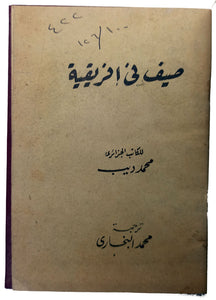 [GENERATION OF 52 - ALGERIAN FICTION] Sayf fî Afrîqîyah. [i.e. Une Été africain = An African summer]. Translated into Arabic by Muhammad Bukhârî.
$45000

$450.00
Tax included.
Shipping
calculated at checkout.
---
---
MOHAMMED DIB, (1920-2003).
[Al-Dâr al-Qawmîyah lil-Tibâ'ah wa-al-Nashr], [Al-Qâhirah (Cairo)], [1961].
Early Arabic translation and the first Egyptian edition of "Une Été africain" novel by Dib, printed in 1959 firstly in French, translated by Egyptian translator Mohammad Bukhârî. An African summer is an early novel about his childhood and youth by Dib and it retains the realistic mode of expression in his description of a people in revolt. Mohammed Dib was an Algerian author, playwriter, and intellectual who was a member of the Generation of '52 - a group of Algerian writers which included Albert Camus and Mouloud Feraoun. In 1959, he was expelled from Algeria by the French authorities for his support for Algerian independence, and also because of the success of his novels (which depicted the reality of life in colonial Algeria for most Algerians). Instead of moving to Cairo as many Algerian nationalists had, he decided to live in France, where he was allowed to stay after various writers (including Camus) lobbied the French government. 
In contemporary full red imitation leather bdg. Arabic letter gilt on front board. 12mo. (16,5 x 12,5 cm). In Arabic. 172, [4] p., two b/w plates. Chipping on imprint page, overall a very good copy. Copy with no date and press details. First Edition, thus. OCLC 77732316. OCLC shows another Arabic copy printed in "Al-Sûrî" in 196? titled 'Sayf Ifrîqî'.