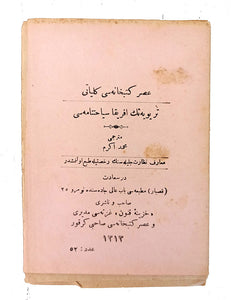 [FROM MARSEILLES TO KONGO, MOZAMBIQUE AND THE CENTRAL AFRICA] Triviye'nin Afrika seyâhatnâmesi (Asir Kitabhânesi Külliyâti). [= Mon voyage au Continent Noir; la "Gironde" en Afrique]. Translated into Ottoman Turkish by Mehmed Ekrem.
$42500

$425.00
Tax included.
Shipping
calculated at checkout.
---
---
ELISEE TRIVIER, (French explorer), (1842-1912)., Asir Kütübhanesi Sahibi Kirkor / Asir Kütübhanesi Corpus, Aded: 52 / Kasbar Matbaasi., Istanbul, [AH 1313], 1896.
Original wrappers. 16mo. (14,5 x 10,5 cm). In Ottoman script (Old Turkish with Arabic letters). 20 p.

First and only edition of this extremely rare pamphlet includes the chapters of 'From Marseilles to Gabon' and 'From Libreville to Banguela' of Trivier's expeditions in Africa. First chapter includes Trivier's Mozambique travel by ship over the Strait of Gibraltar. In this chapter, Trivier described the purpose of his voyage as "After returning to France from my last trip in January 1890, I declared that many more places should be seen. I have written many articles about the necessity of looking for new ways to eliminate the fears and worries caused by McKinley tariffs that are harmed everywhere. As a nice result of this, the Paris City Council and the Bordeaux Chamber of Commerce decided not to be dispatched to the hometown of Africans with an amount of money close to 11,000 francs.". In the second chapter, he describes Congo and other parts of Central Africa.

French explorer Elisee Trivier followed in the footsteps of Scottish missionary David Livingstone in his attempt to explore the interior of Africa. Trivier's expedition traveled in 1889 up the Congo and across Africa to the island of Zanzibar on the eastern coast. Trivier is considered the first French explorer to have crossed Africa.

Hegira: 1313 = Gregorian: 1896 Özege 21221.; Not in OCLC.
Travel Voyage and descriptions Exploration The Turkish / Ottoman Edition Africa Africana