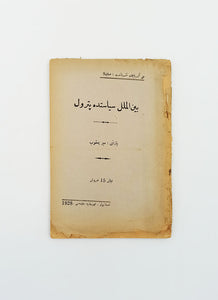 [FIRST WORK ON BAKU AND AZERBAIJANI OIL] Beynelmilel siyasette petrol. [i.e. Oil in international politics]. Introduction by Mehmed Emin Resûlzâde.
$1,25000

$1,250.00
Tax included.
Shipping
calculated at checkout.
---
---
MIR YAKOUB MAHDIYAV, (Azerbaijani politician, diplomat, intellectual, and writer), (1891-1952), Milli Azerbaycan Nesriyati [i.e. National Azerbaijan Publication] Serie 9 / Orhaniye Matbaasi, Istanbul, 1928.
Original wrappers. Demy 8vo. (21 x 14 cm). In Ottoman script (Old Turkish with Arabic letters). 83 p. Chipped on extremities of pages and cover, minor stains on edges. Otherwise a good copy.

First and only edition of this first work in book form on Baku and Azerbaijani oil.

After the occupation of the Republic of Azerbaijan by the Red Army, many Azerbaijani intellectuals such as Mehmed Emin Resûlzâde (1884-1955) sought refuge in Turkey, established a publishing house called "Milli Azerbaycan Nesriyâti" [i.e. National Azerbaijan Publication] in 1928, Istanbul, and to make the voice of Azerbaijanis heard in exile to influence world public opinion. This book was published as the 9th publication of this publishing house. It was printed in Orhaniye Printing house in 1928 and was actually composed of the articles written by the author in the "Azeri-Turk" magazine. The first article appeared in the issue dated 15 August 1928, with other articles following it. The book, in which Mehmed Emin Rasülzade also penned a presentation, consists of the chapters: The Role of Oil in the World War, Azerbaijan at the Genoa Conference, Azerbaijan at the Hague Conference, the American Rivalry in Britain, A Common Front against the Bolsheviks, the Pursuits of the Oil Competition. Compiled from Mehdiyev's articles, is not only a propaganda work against the Russian occupation but also the first in-depth work written on Baku and Azerbaijan oil. Many sources in the text are referenced in footnotes. Mehdiyev says that world politics is shaped by the economy and oil is the most important factor in this context. In addition to expressing how important it is for the First World War, he also makes predictions about how oil will shape world politics in the future. According to Mehdiyev, whoever dominates the world's oil reserves will be the strongest state in the world. Based on M. Fanning, Mehdiyev states that Azerbaijani and Baku oil has an estimated 8 million barrels of resource rather than Mexican, American, Turkish, and Iranian oil.

Only one paper copy in Bogaziçi University's Library in Turkey according to the OCLC: 82001141.; Özege 1960.