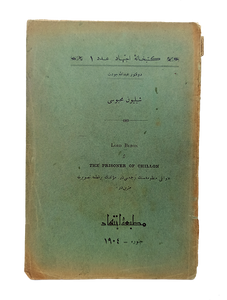 [FIRST TURKISH EDITION OF 'THE PRISONER OF CHILLON' PRINTED IN GENEVA] Silyon mahbusu. [= The prisoner of Chillon]. Translated by Abdullah Cevdet [Karlidag], (1869-1932).
$1,20000

$1,200.00
Tax included.
Shipping
calculated at checkout.
---
---
LORD BYRON [GEORGE GORDON BYRON], (1788-1824).
Kütüphâne-i Ictihâd, Cenevre - [Geneva], 1904.
Paperback. Foolscap 8vo. (18 x 12 cm). In Ottoman script. 38 p., 1 b/w portrait of Byron. A heavy tear on the back cover. The Prisoner of Chillon is a 392-line narrative poem by Lord Byron. Written in 1816, it chronicles the imprisonment of a Genevois monk, François Bonivard, from 1532 to 1536. After almost 100 years later, this poem was translated into the Ottoman Turkish by Abdullah Cevdet firstly printed in Geneva. Abdullah Cevdet, (1869-1932), was a leading Ottoman/Turkish free-thinker, materialist, and Westernizer. He was born in the town of Arapgir in Maʿmuretʿül-Azîz Province of the Ottoman Empire and grew up in a pious, lower-middle-class Muslim household, where he received a strict religious education. His father's stubborn refusal of smallpox vaccination left him pockmarked for life and contributed to his eventual gravitation towards scientism. Abdullah Cevdet graduated from the Military Middle School in Ma'muret'ül-Azîz in 1885, and then entered the Kuleli Military Medical Preparatory School in Istanbul. Three years later, he enrolled in the Royal Military Medical Academy. At this time, he was still very religious; one of his early poetry books from this period includes a glowing "Na't-i Serif," a eulogy for the Prophet Muḥammad. However, like many other cadets, Abdullah Cevdet's views underwent a drastic transformation in the academy, where he became an ardent scientistic thinker and materialist. Here he produced his first translations from major works of German Vulgärmaterialismus, such as Ludwig Büchner's Kraft und Stoff and Aus Natur und Wissenschaft. He continued to translate from European writers up until his death, including Vittorio Alfieri, Émile Boutmy, Lord (or George Gordon) Byron, Jean-Marie Guyau, Baron (or Paul-Henri Dietrich) d'Holbach, Friedrich von Schiller, William Shakespeare, and François-Marie Arouet (Voltaire). One of his most important contributions to Ottoman and Turkish intellectual debate was the translation of Gustave Le Bon's writings into Turkish and the introduction of his elitist ideas to the Ottoman elite. Abdullah Cevdet also continued to write poetry throughout his life. Although the poems he wrote in the academy bore strong Parnassian influences, his later work was increasingly Symbolist in nature. He also translated the Persian poetry of Khayyâm into Turkish. (Source: Oxford Islamic Studies Online; Cevdet, Abdullah). Özege 18963.; TBTK 7035. OCLC 754957413 (Not found an institutional copy in OCLC). First Edition. Extremely rare.