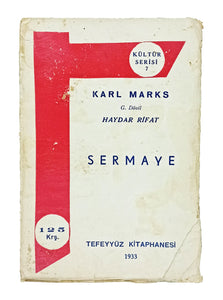 [FIRST TURKISH EDITION OF 'DAS KAPITAL'] Sermaye. Translated by Haydar Rifat [Yorulmaz], (1877-1942)
$1,95000

$1,950.00
Tax included.
Shipping
calculated at checkout.
---
---
KARL MARX, (1818-1883)., Dün ve Yarin Tercüme Külliyati / Sirketi Mürettibiye Matbaasi, Istanbul, 1933.
Original wrappers. Cr. 8vo. (19 x 13 cm). In Turkish. 305, [1] p., errata. Extremely rare in this condition and in original wrappers. Fading on spine, slight stains on cover. Untrimmed. Otherwise a very good copy. Repaired by tape on the front cover's bottom corner.

Yorulmaz's rare first Turkish translation of 'Das Kapital' has been the subject of many 'translation studies'. The most important work in the entrepreneurship of Yorulmaz's left thought repertoire that was published within his cultural series was 'Sermaye [= Das Kapital]'. Published as the 7th book of 'the Capital Culture Series', an abridged translation of Das Kapital by Karl Marx. Yorulmaz wrote about his translation: "I had an experience on these empty days and I am translating and publishing a loyal story of 14 volumes, "Das Kapital", collected by Gabriel Dövil. If this abridged edition is requested, I will finally begin with these 14 volumes, starting in June 1937, and translating four every year." Yorulmaz had translated 'Das Kapital' to Turkish from Gabrielle Deville's French translation which was an abridged edition. According to his comments, the purpose of Yorulmaz was, if this abridged edition is requested or demanded he would translate the full text of 'Das Kapital'. However, he couldn't realize this dream. Nevertheless, the effect of the 'Sermaye' in the Turkish leftist thought had been considerable. As "Capital" was the first translation of "Das Kapital" into Turkish, it functioned at that time to fill the gap that existed in terms of socialist thought. He was concerned with knowing Karl Marx's thoughts, and therefore in his preface to 'Sermaye', he described his intellectual approach as "[one] sect which is one of the deepest thoughts and has made the biggest earthquake in the world in social and political life". In his preface, he wrote: "We have nothing but a small realized interference about Karl Marx's study in the law school in Ankara by Cavit Bey and the Turkish attorney Sükrü Kaya Bey, five to ten pages of translations." (Source: Haydar Rifat Yorulmaz'in çevirileri, (1908-1940): Bir sol düsünce 'repertuvari'nin kurulusu, Bilal Çelik). In the preface of the 1888 English Edition of 'Das Kapital', Engels says "I was told that the Armenian translation, which was expected to be published in Istanbul a few months ago, did not see the light of day because the publisher was afraid to release a book bearing the name of Marx, while the translator refused to show it as his own work.". (Das Kapital in Turkey, Savran & Tonak). Haydar Rifat was a Turkish lawyer, intellectual, translator, and author. He brought the works of world-famous writers such as Emil Ludwig, Lenin, Gustav, Balzac, Tolstoy, Dostoevsky, and Karl Marx into Turkish; he published his translations under the series titled 'Dün ve Yarin Tercüme Külliyati' [i.e. Yesterday and Tomorrow as Translation]. In addition, many articles he wrote in the fields of law and literature appeared in various newspapers and magazines.

Not in OCLC.