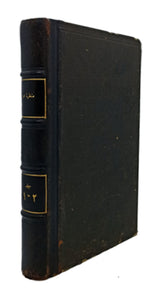 [FIRST TURKISH BOOK ON THE HISTORY OF THE ROMAN EMPIRE] Manzara-i Iber yahud Roma tarihi. 2 volumes set. [i.e. A view of the world and the history of Rome]
$50000

$500.00
Tax included.
Shipping
calculated at checkout.
---
---
AHMED CEVDET PASHA, (Turkish statesman, historian, scholar), (1822-1895)., Cemal Efendi Matbaasi / Mahmud Bey Matbaasi., Istanbul, [AH: 1305] = 1888.
Original fine black quarter leather bdg. Marbled endpaper. Ottoman lettered gilt on spine. 2 volumes in 1. Demy 8vo. (20 x 14 cm). In Ottoman script (Old Turkish with Arabic letters). 2 volumes set: (303, [7] p; 238, [6] p). Hegira: 1305 = Gregorian: 1888.

First and only edition of this extremely rare first separate Roman history (as well as the Byzantine history) in the Ottoman/Turkish literature.

Ahmed Cevdet Pasha had already dealt briefly in Roman and Byzantine history as part of an outline of ancient and medieval European history (Avrupa'nin Ahval-i Sabika ve Lahikasi): Tarih-i Cevdet (first edition) vol. 6 (Istanbul 1294 AH /1877). The Roman history until Constantine the Great is limited to the first ten pages of this account, the remainder deals with Byzantine history.

ABOUT THE AUTHOR:
Ahmed Cevdet Pasha was an Ottoman scholar, intellectual, bureaucrat, administrator, historian, and a prominent figure during the Tanzimat reforms of the Ottoman Empire. He was the head of the Mecelle commission that codified Islamic law for the first time in response to the Westernization of law. He is often regarded as a pioneer in the codification of civil law based on the European legal system. The Mecelle remained intact in several modern Arab states in the early and mid-20th century. In addition to Turkish, he was proficient in Arabic, Persian, French, and Bulgarian languages. He wrote numerous books on history, law, grammar, linguistics, logic, and astronomy. (Source: Wikipedia).

Özege 12220. Only one copy in OCLC: 776805075. (Universiteitsbibliotheek Leiden).