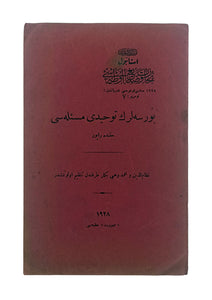 [FIRST REPUBLICAN TURKISH THEORY ON THE REORGANIZING OF THE STOCK-EXCHANGES] Borsalarin tevhîdi meselesi hakkinda rapor. [i.e. Report on merging exchanges].
$80000

$800.00
Tax included.
Shipping
calculated at checkout.
---
---
NIZÂMEDDIN BEY, MEHMED VEHBÎ [SARIDAL] BEY, (1886-1969). 
Türkiye Cumhuriyeti Istanbul Ticaret ve Sanayii Odalari, 1928 Kongresi Nesrîyâtindan: Numero  7 / Cumhuriyet Matbaasi, Istanbul, 1928.
Paperback. Minor fading on pages. Otherwise a fine pamphlet. Original red wrappers. Roy. 8vo. (24 x 17 cm). In Ottoman script (Old Turkish in Arabic letters). 12 p. At the introduction of this treatise, the authors state that exchanges are generally divided into two and that these are collective and dispersed types. In other sections, it emphasizes how new the Turkish stock market is compared to the world stock markets and how important it is to make the arrangements carefully in this context. The origin of an organized securities market in Turkey has its roots in the second half of the 19th century. The first securities market in the Ottoman Empire was established in 1866 under the name of "Dersaadet Securities Exchange" following the Crimean War. Dersaadet Exchange also created a medium for European investors who were seeking higher returns in the vast Ottoman markets. Following the proclamation of the Turkish Republic, a new law was enacted in 1929 to reorganize the fledgling capital markets under the new name of "Istanbul Securities and Foreign Exchange Bourse". In this rare pamphlet, argued earlier this reorganization only one year ago from the new law in 1929. Nizameddin Bey was an Ottoman / Turkish clerk of the stock exchange. Mehmed Vehbi Saridal, (1886-1969), was a Turkish / Ottoman politician. He is a graduate of Istanbul Law School and Berlin University Faculty of Philosophy. He was a professor of Turkish Economics and Trade Doctrines and Social Economics. This is the first theoretical book on the reorganizing of the Republican stock exchanges after the collapse of the Ottoman Empire. Turkish National Library 000788854.; Özege 2529.; TBTK 6728.; Not in OCLC. Extremely rare. First and Only Edition.