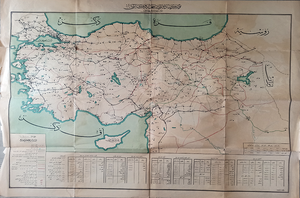 [FIRST COMPLETE ROAD MAP OF TURKISH REPUBLIC] Türkiye Devleti Nafia Vekâleti Umur-i Nafia haritasidir. [i.e. The map by Ministry of Public Works of the Turkish State].
$1,00000

$1,000.00
Tax included.
Shipping
calculated at checkout.
---
---
UMUR-I NAFIA VEKÂLETI.
Zellitch Bros., Istanbul, [1923].
Original color map. Oblong: 63x95 cm. In Ottoman script (Turkish with Arabic letters). Folded. Chipped on extremities and slight foxing. Otherwise a good map. Scale: 1:2.000.000. Detailed legends panel.
This extremely rare huge map includes all railways, highways and other roads; Turkish borders with Iran, Russia, Greece, cities and their borders, printed shortly after the declaration of the republic in 1923. This is the first complete road map of the Republican period.
The Ministry of Environment and Urban Planning is a government ministry office of the Republic of Turkey, responsible for the environment, public works, and urban planning in Turkey. The Ministry was formed in 1983 through the merger of the Ministry of Public Works (Turkish: Bayındırlık Bakanlığı, formed 3 May 1920) and the Ministry of Development and Housing (Turkish: Imar ve Iskan Bakanligi, formed 1958). Antonio Zelic (Zellich) of Brela was one of many Dalmatians who left his homeland in pursuit of a better life during the 19th century. However, instead of going west, he set out toward the East, to the Ottoman imperial capital - Istanbul. Upon arrival in the city on the Bosphorus, Zelic found employment at the lithographic print house of Henri Cayol, the first of its kind in the Ottoman Empire. In 1869, Zelic opened his own lithographic print house called "Zellich and Sons" (A. Zellich et fils). His descendants continued his work with great success, and the Zellich Print House, now known as "Zellich Brothers" (Zellich frères), became one of the most renowned in the Empire. Zellich Brothers won recognition due to the high quality of their products, and, above all, the amazing beauty of their postcards and posters. Their crowning achievement was an order for the printing of the Ottoman Turkish Lira banknotes in 1914. Zellichs received many Ottoman and international awards, including medals conferred by the Pope, the Persian shah, and the Serbian king.".
(Source: Documentary film "Zelic- Printers to the Empire", Levantineheritage).
Extremely rare. Not in TBMM Library.; Not in OCLC.; Not in the Turkish National Library. 
Map Geography Thematic maps Cartography Turkish cartography