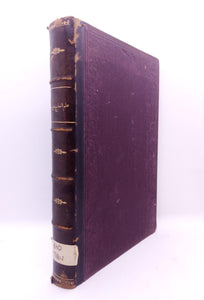 [FIRST HISTOLOGY BOOK] Ilm-i ensâc-i tabiiye: Osmanli Tib Fakültesi ilm-i ensâc ve mübahis.
$35000

$350.00
Tax included.
Shipping
calculated at checkout.
---
---
DOKTOR RECEB [TEVFIK RECEP ÖRENSOY], (Ottoman / Turkish professor of embryology and histology), (1875-1951).
Müsterekü'l-Menfaa Osmanli Sirketi Matbaasi., Ist., [AH 1327] = AD 1911.
Original decorative 1/4 leather bdg. with Ottoman lettered gilt on spine. Original marbling interior. Roy. 8vo. (24 x 17 cm). In Ottoman script. [8], 545, [8] p. Ilm-i ensâc-i tabiiye: Osmanli Tib Fakültesi ilm-i ensâc ve mübahis. After graduating from the Military Medical School in Istanbul in 1898, Doctor and Captain Tevfik Recep Bey were sent to the University of Würzburg (Germany) on September 19, 1899, by Rieder Pasha, founder of GATA for his doctorate on the histology and embryology, after a year of internship training. He completed and returned to Turkey and became the first Turkish physician to study a doctorate in this field. After training in the modern sense, Turkey Histology and Embryology Dr. Tevfik Recep Örensoy began to teach in Turkey and In Turkey, the longest and most regular contributors in this area again, Dr. Tevfik Recep Örensoy did it. Tevfik Recep Örensoy, who left GATA in 1909 and moved to the newly established Istanbul Faculty of Medicine; he established the Histology and Embryology Chair here and published his first Histology book in the same year. Dr. Tevfik Recep Örensoy published a Histology Atlas in 1911 and an Embryology book in 1935. First Edition. Özege 8867.