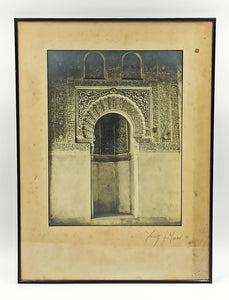 [FIRST FEMALE PHOTOGRAPHER OF TURKEY] Original unnamed photograph: Mihrab of the Mosque in the Alhambra
$1,25000

$1,250.00
Tax included.
Shipping
calculated at checkout.
---
---
YILDIZ MORAN, (The first female Turkish photographer), (1932-1995), [Istanbul], [ca. 1955].
Original silver gelatin photographic print mounted on cardboard. 53x42 cm (Photo size: 38x30 cm). Signed by Yildiz Moran. 

Yildiz (Vahid) Moran Arun was born on 24 July 1932, in Istanbul. She is the youngest of three children born to Nemide Moran and Ahmet Vahid Moran. Her father, Ahmet Vahid Moran, was a military officer who served in important positions both at home and abroad. He was the writer of Turkey's very first English-Turkish dictionary printed in Latin script in 1924. In 1950, Yildiz Moran quit her high school education during her final year at Robert College and, following the guidance of her uncle, the art historian Mazhar Sevket Ipsiroglu, went to Great Britain to study photography. After completing her education at Bloomsbury Technical College (1950-52) and Ealing Broadway Technical College, she began to work for John Vickers, the acclaimed photographer of The Old Vic. Moran combined her technical and theoretical knowledge with the practical experience she gained at the studio and stage shoots. She had the opportunity to meet famous artists of the time. The exhibitions and works she saw during her time in Great Britain helped her develop her photographic vision. Following her internship period, she began to make a living taking portrait and lobby photographs. She opened her first exhibition in 1953 in Cambridge. In 1954, she held four more exhibitions in London. All these shows attracted much attention. In her first exhibition, her entire collection was sold. She went traveling in Europe. After making a photo book on Spain and Portugal, she returned to Turkey in 1954. Between 1955 and 1962, she held five solo exhibitions. In 1963, she married Özdemir Asaf (Halit Özdemir Arun) and gave birth to three children in four years. She dedicated the rest of her life to her children. She opened her last exhibition in 1970, in Istanbul. After that, she only took part in retrospective exhibitions. She quit her professional photography career and began to work as a translator and dictionary writer. Between 1981 and 1987, she prepared the complete works of Özdemir Asaf for publication and translated some of his poetry and prose into English. In 1982, the Istanbul State Academy of Fine Arts Photography Institute awarded her honorary membership on account of her contributions to the art of photography. Lyrically conveying a universal language through her own perspective, Moran became a school in herself with her "timeless" photographs. Turkey's first academically-trained photographer, Yildiz Moran is renowned for the new vision and aesthetic she introduced into photography and is considered to be one of the best photographers of all time. Masterfully combining the tradition of the East with the aesthetic of the West, she left behind a legacy of black and white photographs beautifully composed to capture the world of light and shadow reflecting on people and lands. Considering the conditions in the world of photography in the 1950s and 1960s, it is a great achievement that she defined the age of 20 her passion for photography as the foundation of her life, became the first academically-trained woman photographer in her country, acquired in-depth knowledge of the discipline and combined this knowledge with her talent and hard work. "The camera must be like an extension of your being so that it doesn't create an obstruction between you and your subjects. Anything that has poetry in it is the subject of photography. My only intention has always been to photograph what was universal while staying true to the concept embodied by my subject." Besides her portraits, landscapes, and abstract details, she is also known for her photographs reflecting the lives of the Anatolian people. As a woman photographer traveling in Anatolia, she accessed otherwise inaccessible environments, moments, and perspectives; and, with profound respect, she conveyed the purity of the people she met there and allowed us... (Biography: Merih Akogul).