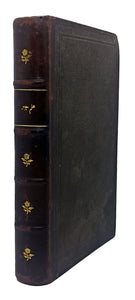 [FIRST EDITION OF THE ALGEBRA IN MUHENDISHANE BY DARUSSAFAKA MUALLIM] Ilm-i cebir.
$42500

$425.00
Tax included.
Shipping
calculated at checkout.
---
---
MEHMED IZZET, (1835?-1889).
Karabet Matbaasi., Ist., [AH 1312] = 1895.
Original 1/3 leather bdg. with original boards, raised four to gilt title, and decorative flowers at spine. Ottoman Turkish ex-library stamps on the title page, Cr. 8vo. (19 x 12 cm). In Ottoman script. 270, [2] p. Mehmet [Muhammed] Izzet, who was born in the Kulaksiz district of Istanbul at the beginning of the 18th-19th century, taught mathematics and algebra at the Mühendishane between 1274-1275. He worked as a translator at the Mühendishane for a while. He was later assigned to repair Jeddah waterways. He passed away while on this duty. There is a beautiful Medine-i Münevvere painting in the Hirka-i Sa'adet flat (Topkapi Palace) by Muhammed Izzet, who also has the rank of the district governor. This work was prepared by Darüssafaka "Cebr-i Ala and Hendese-i Resmiye" with teacher Mehmet Emin Bey, under the provincial Idadiye schools and to be taught in the seventh classes. Özege 08841 / 01. First Edition. Very rare.