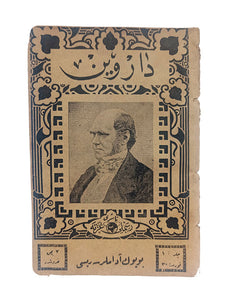 [FIRST BIOGRAPHY OF DARWIN IN OTTOMAN / TURKISH LITERATURE] Darvin. (Büyük Adamlar Serisi Cild 1 - Forma 30. Ibrahim Alâeddin Bey'in riyâseti altinda güzide bir hey'et-i ilmiyye tarafindan vücûde getirilmistir.
$92500

$925.00
Tax included.
Shipping
calculated at checkout.
---
---
IBRAHIM ALAEDDIN [GÖVSA], (1889-1949) and COMMISSION., Sebat Matbaasi, Ist., 1927.
Original wrappers. Cr. 8vo. (20 x 14 cm). In Ottoman script (Old Turkish with Arabic letters). 15 p., b/w portrait of Charles Darwin, (1809-1882) on front cover. Taken from a volume including multiple booklets. Minor wear on spine. Small tear on pages' extremities. Slightly faded on pages. Otherwise a good copy.
First and only edition of the first Darwin biography in the Ottoman / Turkish world.
"Büyük Adamlar Serisi" [i.e. The "Big Men" series], consisting of about 41 small books, all of which were published in 1927, by a delegation under the presidency of the body and some of which were written by him personally, filled an important gap on 'biography' field in its period. This delegation includes Ali Resat, Tezer Agaoglu, Galip Ata Ataç besides Gövsa. This small book is the first and ever biography of Darwin in Ottoman literature. Gövsa was an Ottoman / Turkish writer and poet who is known for his biography and encyclopedia studies.
Extremely rare. Özege 3636.; Not in OCLC.