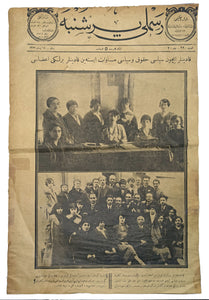 [EARLY TURKISH FEMINISM / RARE PERIODICALS] Resimli Persenbe [sic] Persembe: i.e. Illustrated Thursday: The members of the Women's Union who want political and legal equality for women!]. No: 99. April 14, 1927
$22500

$225.00
Tax included.
Shipping
calculated at checkout.
---
---
[EARLY TURKISH FEMINISM / RARE PERIODICALS] Resimli Persenbe [sic] Persembe: Kadinlar için siyasî, hukûkî ve siyâsî müsâvât isteyen Kadinlar Birligi azasi! [i.e. Illustrated Thursday: The members of the Women's Union who wants political and legal equality for women!]. No: 99. April 14, 1927.
RESIMLI PERSENBE., Resimli Persenbe Matbaasi, Istanbul, 1927.
Original illustrated wrappers. Chipped and slight tears on extremities, creasing on papers. Overall a good copy. Folio. (38 x 24 cm). In Ottoman script (Old Turkish with Arabic letters). 8 p., richly illustrated.

Extremely rare issue of this early Turkish magazine in Ottoman Turkish, with the photographs of members of the union like Nezihe Muhiddin (1889-1958), and news in the headline on the front cover: "The members of the Women's Union who wants political, legal and political equality for women!", continuing as "Recently, the congress of the women's union came to an end. This congress attracted a lot of attention as it emphasized the need for men and women to be equal. The Women's Union is a strange society made up of men and women. Male members cannot enter the administration. The woman sitting in the middle with her head uncovered is Nezihe Muhittin Hanim. The head, member, and clerk of the society is Nezihe Hanim."

This magazine, owned by Zekeriya Sertel and his wife Sabiha Sertel, ran between 1925 and 1929 with 199 issues. This rare issue has the headline of "Women's Union" in the Imperial Ottoman, and then the Turkish Republic. It's one of the rare periodicals which published early Turkish feminist Nezihe Muhiddin's images.

Nezihe Muhiddin Tepedelengil (1889-1958) was a Turkish women's rights activist, the pioneer of Turkish feminism, suffragette, journalist, writer, and political leader. In the 20th century Ottoman Empire, Nezihe Muhiddin was a pioneer of the women's movement who fought to ensure the recognition of women's political rights after the declaration of the republican regime. She became one of the leading names of the First Wave Republican feminists. Even before the establishment of the Republican People's Party, Nezihe Muhiddin completed the formation of the Women's People's Party (KHF) in 1923 and became the founder of the first political party in Turkey. She also served as a president of the Women's Union between 1924-1927 and helped the founding process of the journal named "Türk Kadin Yolu" [i.e. Turkish Women's Path].