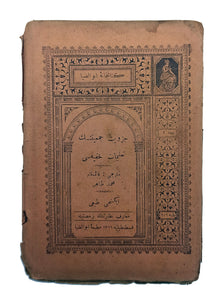 [EARLY OTTOMAN EDITION OF GERMAN JESUIT BOOK] Cizvit Cemiyeti'nin talimât-i hafiyesi. [i.e. Espionage instructions of the Jesuit Society].
$30000

$300.00
Tax included.
Shipping
calculated at checkout.
---
---
Prep. and translated by KAYMAKAM MEHMED TAHIR.
Matbaa-i Ebüzziya., Ist., [AH. 1311] = 1894. 
Original illustrated and decorative wrappers. Pages are untrimmed and not opened. 12mo. (16 x 12 cm). In Ottoman script. 104 p. Hejra-Hijri: 1311 = Gregorian: 1894. Early edition of this rare Turkish book with Arabic script about the Jesuits' society, the most influential community of the Catholic Church, their activities and formations from the 16th to the late 19th century. It was a translation from German, but it's not written original title in the book. Kaymakam Mehmed Tahir was a late Turkish martry who was a district governor of Yozgat city. He died in the War of Independence (1919-1922). Extremely rare. Özege 3085 / 2.; TBTK 7602. Second Edition.