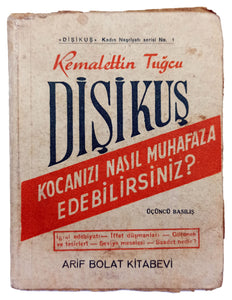 [DO NOT SHOW YOUR BARE FEET TO YOUR HUSBAND!: EARLY-MODERN MANSPLAINING BOOK] Disikus: Kocanizi nasil muhafaza edebilirsiniz? Igral edebiyati - Iffet düsmanlari... [i.e. Female birds: How to keep your husbands...]
$22500

$225.00
Tax included.
Shipping
calculated at checkout.
---
---
[DO NOT SHOW YOUR BARE FEET TO YOUR HUSBAND!: EARLY-MODERN MANSPLAINING BOOK] Disikus: Kocanizi nasil muhafaza edebilirsiniz? Igral edebiyati - Iffet düsmanlari - Görenek ve tesirleri - Seviye meselesi - Saadet nedir? [i.e. Female birds: How to keep your husbands...].
KEMALETTIN TUGCU, (Turkish author), (1902-1996)., Arif Bolat Kitabevi Disi Kus Kadin Nesriyati Serisi No. 1, Istanbul, 1943.
Original wrappers. 12mo. (16 x 13 cm) In Turkish. 95, [1] p. 

Early edition of this scarce first book of Tugcu, a non-fictional work including interesting advice for women "to keep their husbands" as well as advices such as "being clean, not showing bare feet to the husbands, dressing nicely", etc. In the early Republican period, this book was one of the early-modern examples of 'mansplaining'.
Tugcu was a prolific writer who wrote more than 200 novels in the literary field, which were aimed mostly at children and young people. He was particularly known for his novels with pathetic subjects and melodramatic lattices.

Not located in OCLC.