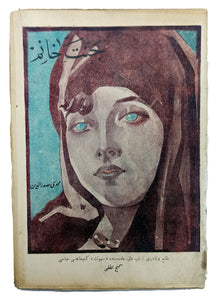 [COVER DESIGN / AVANTGARDE NOVELS] Cennet Hanim. Calligraphed by Hattat Hâmid Aytaç (1891-1982)
$42500

$425.00
Tax included.
Shipping
calculated at checkout.
---
---
MECDI SADREDDIN [SAYMAN], Ahmed Kâmil Matbaasi, Istanbul, 1927.
Original pictorial wrappers. Cr. 8vo. (20 x 14 cm). In Ottoman script (Old Turkish with Arabic letters). 109 p. A fine copy.

First edition of this very interesting avant-garde novel of the early modern Turkish literature, including a woman character who is a drug addict from the high society, published in the early period of Republican Turkey. The title and scripts on the front cover are written by early modern Turkish calligrapher Hâmid Aytaç (1891-1982).

Mecdi Sadreddin Sayman was a Turkish journalist who served for "Ikdam" [i.e. Effort] newspaper, which is one of the most popular newspapers published during the Imperial Ottoman and Modern Turkey. He was the assistance of Ahmet Cevdet Oran (1862-1935) who has established the paper in 1894, and the first issue appeared on 23 September. It initially advocated for Turkism but held a critical attitude towards the Committee of Union and Progress after the Young Turk Revolution had occurred. Yakup Kadri Karaosmanoglu was a journalist with Ikdam during the Turkish War of Independence. Following the establishment of the Republic of Turkey the paper objected to the policies of the Turkish government, including making Ankara the capital city instead of Istanbul as well as the presidency of Mustafa Kemal Atatürk. Partly due to its dissident approach the owner of the paper was changed, and it became an asset of Ali Naci Karacan. The newspaper ran between the years 1894-1928, until the Letter Revolution.

Only three copies in OCLC 25346455 (Bogaziçi University Library, Aga Khan Library of London, Princeton University Library).; Özege 2946.