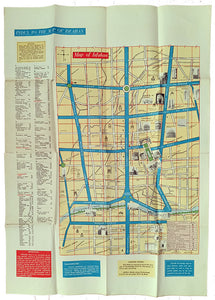 [CITY PLAN OF ISFAHAN]. Map of Isfahan with a large index
$22500

$225.00
Tax included.
Shipping
calculated at checkout.
---
---
ISFAHAN MAP, Iran, [c. 1960].
Original color city map of Isfahan. 70x50 cm. In English. Folded. No scale.

The scarce detailed city map of Isfahan which is a major historical ancient and Islamic city in the Central District of the Isfahan Province of Iran, including an alphabetical index as well. There are some b/w photos showing several important places and buildings on the map. Remarks say, "Please note that most Government Departments, Point 4, Fao, Banks, etc. are situated around Shah Square. Ask for Ostandari i.e. the Governor's Office at F6 or find the Information Dept. at D6. All streets, avenues, kuchehs are listed under the name of khiaban eg. Khiaban Abbasssad is under K. not A. Historic places are listed both under their own names e.g. Ali-Qapu, Chehel-Sotoon, etc.; and under Mosques, Minarets, etc.".