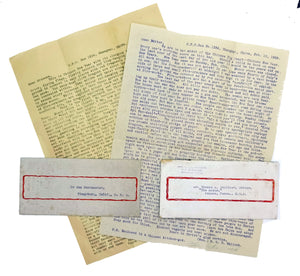 [AMERICAN PRESBITERIAN MISSIONARY IN CHINA] Two 1920s typescript letters from an American Presbyterian Missionary Serving in Shanghai, China signed 'Hallock'.
$75000

$750.00
Tax included.
Shipping
calculated at checkout.
---
---
HENRY GALLOWAY COMINGO HALLOCK, (American Presbiterian missionary in China), (1870-1951).
TLS 1925-1929, China.
Two one-page typescript letters, with original envelopes, written by a noted missionary to China Reverend Henry Galloway Comingo Hallock (1870-1951), who was an American Presbyterian missionary in China for almost 50 years. The letters are part of an ongoing campaign to solicit donations. Both letters describe Chinese New Year festivities and customs, including dragon parades, firecrackers, gambling, and the holiday's connection with money in the early 20th-century. The 1929 letter notes that the Nationalist Government tried to suppress New Year celebrations but could not. Interesting impressions from this well-known missionary, particularly about a perceived Chinese preoccupation with money.

Henry Galloway Comingo Hallock, (1870-1951), was a graduate of Princeton Theological Seminary (1893-96) and Presbyterian missionary in China for almost 50 years. He took a post in China immediately after graduation and later became involved in independent missionary work and teaching in the theology department at the University of China, Chengdu, Shanghai from 1925-27. He was fluent in Chinese, translated Christian material into Chinese, and published Hallock's Chinese Almanac, which answered questions for Chinese about religious matters.

First letter dated January 24, 1925, and second dated February 15, 1929. Envelopes have the return address of Shanghai, China. One hand-signed and one with a typescript signature. Both very good condition.