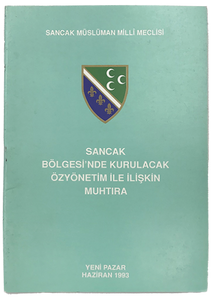 [BOSNIA & HERZEGOVINA AFTER THE BREAKUP OF YUGOSLAVIA] Sancak Bölgesi'nde kurulacak özyönetim ile iliskin muhtira. [i.e., Memorandum of self-government to be established in the Sandzak Region]
$12500

$125.00
Tax included.
Shipping
calculated at checkout.
---
---
Sancak Müslüman Millî Meclisi [i.e., The Muslim National Council of Sandžak (MNVS)], Yeni Pazar (Novi Pazar), 1993.
Paperback. Cr. 8vo. (20 x 14 cm). In Turkish. [ii], 10 p., 1 b/w map.
First and only Turkish edition of this memorandum of self-government to be established in the Sandzak Region of Bosnia-Herzegovina immediately after the Breakup of Yugoslavia.
In the region's Yugoslavia era, Sandžak saw a process of industrialization, during which factories were opened in several cities, including Novi Pazar, Prijepolje, Priboj, and Ivangrad, while the coal mines were opened in the Prijepolje area. Urbanization caused a major social and economic shift. Many people left villages for towns. The national composition of the urban centres was changed to the disadvantage of the Muslims, as most of those who inhabited the cities were Serbs. The Muslims continued to lose their economic status, continuing the trend inherited from the time of the collapse of the Ottoman Empire and the agrarian reform in the Kingdom of Yugoslavia. The emigration of the Muslims to Turkey also continued, caused by the general underdevelopment of the region, disagreement with the communist authorities, and mistrust with the Serbs and Montenegrins, but also due to the nationalization and expropriation of property. Serbs from Sandžak also moved to the wealthier regions of the central Serbia or to Belgrade or Vojvodina, while the Muslims moved to Bosnia and Herzegovina as well.
Between 25 and 27 October 1991, a referendum on Sandžak's autonomy was held, organized by the Muslim National Council of Sandžak (MNVS) which consisted of the Muslim Party of Democratic Action (SDA) and other Bosnian Muslim organizations and parties. It was declared illegal by Serbia. According to the SDA, 70.2% of the population participated in the referendum with 98.92% voting in favor of autonomy.