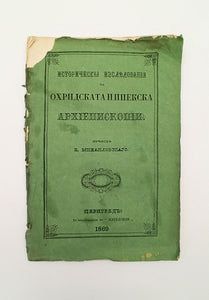 [BALKANS / BULGARIAN IMPRINT IN CONSTANTINOPLE / BYZANTIUM] Istoricheskiy izsledovaniia za Okhridskata i Ipekska Arkhiepiskopii. [i.e. Historical research on the Archbishopric of Ohrid]
$42500

$425.00
Tax included.
Shipping
calculated at checkout.
---
---
N. MIKHAILOVSKAGO, V Pechatnoto na Makedoniya, T︠s︡arigrad (Constantinople), 1869.
Original wrappers. Tear on the upper left side of front cover, chippings on extremities. A good copy. Roy. 8vo. (24 x 17 cm). In Bulgarian. 107 p.

First and only edition of this scarce early book in Bulgarian, printed in Constantinople (Macedonian Printing House) on the history of the Archbishopric of Ohrid, also known as the Bulgarian Archbishopric of Ohrid, which was an autocephalous Eastern Orthodox Church established following the Byzantine conquest of Bulgaria in 1018 by lowering the rank of the autocephalous Bulgarian Patriarchate due to its subjugation to the Byzantines. In 1767, the Archbishopric's autocephaly was abolished, and the Archbishopric was placed under the tutelage of the Patriarchate of Constantinople.

13 copies in OCLC: 793578483, 48911077.