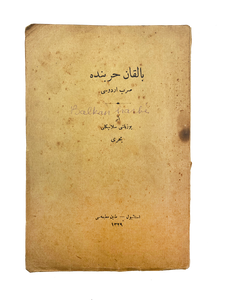 [BALKAN WARS (1912-1913)] Garb Ordusu Harekâti Cavid Pasa Kolu ve Vardar Ordusu. [i.e., Western Army Operation, Cavid Pasha Branch and Vardar Army in the Balkan War]
$32500

$325.00
Tax included.
Shipping
calculated at checkout.
---
---
BEKIR SIDKI, (Ottoman - Turkish lieutenant), (19th-20th century), Kitabhane-i Islâm ve Askerî Çigiraçan, Ibrahim Hilmi - Balkan Harbi Külliyati, Aded: 4., Istanbul, [AH 1331] = 1915.
Original wrappers. Foolscap 8vo. (18 x 12 cm). In Ottoman script (Turkish with Arabic letters). 158 p., 4 plans. Occasionally stains on cover, pages, and edges; chipped on extremities of front cover and spine. Overall, a good copy. Some uncut pages.
First and only edition of this rare first-hand account of the failures, and deficiencies of the Ottoman army in the Balkan War (1912-1913), and the conflicts between Turkish commanders during the war. Bekir Sitki [or Sidki] participated in the war with the rank of lieutenant. The wars and struggles fought by the Vardar army, a branch of the Western army called Câvîd Pasha branch affiliated with it, are explained day by day with four plans in this work in plain language, and information is given about the situation of the Ottoman army, its deficiencies, the difficulties experienced during the war.
As of 2023 September, only one paper copy could be traced in the OCLC: 283477138 (Universitätsbibliothek der Eberhard Karls Universität).; Özege 6039.; TBTK 5822.; Not in ATYB.