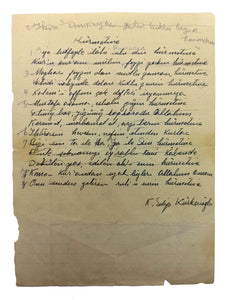 Autograph poem / pray signed 'K. Edip Kürkçüoglu'.
$8500

$85.00
Tax included.
Shipping
calculated at checkout.
---
---
KEMAL EDIB [KÜRKÇÜOGLU], (Turkish poet), (1902-1977)
Manuscript Poem On Paper., [ca. 1950].
Original manuscript unpublished autograph poem signed by Kemal Edib. 22x16 cm. In Turkish (Modern). This is a poem / pray titled 'Hürmetine'. No date, ca. 1950. Text in Turkish: Bize lütfeyle, ilahi yüce din hürmetine! Nûr-i Kur'an-i mübin, feyz-i yakin hürmetine! Mazhar-i sirrin olan, mutlu zaman hürmetine! Vecd-i vahyin ile, kutlu zemin hürmetine - Kalem-i afvini çek, defter-i isyanimiza, Mustafa askin ile, ashab-i Güzîn hürmetine, Elimiz bos, yüzümüz kapkaradir Allah'im! Kerem et, merhamet et, ars-i berin hürmetine, Ihtirasin, hevesin, nefsin elinden kurtar, Bizi, Ta ile Ha, Ya ile Sin hürmetine, Dinle sekvâmizi, ey Rabb-i kavi, Kâbe'nde, Dökülen yas, edilen ah ü enin hürmetine - Koyma Kur'an'dan uzak, bizleri Allah'im aman Onu senden getiren, Ruh-i Emin hürmetine.". Kemal Edip Kürkçüoglu, (1902-1977), who had taught history, literature and Islamic mysticism in high schools and faculties and done administrative services, was a poet and scholar whose fifteen books about religion, history and literature had been published. Only a few of his poems had been published until today. (Source: The Poem Of Kemal Edip Kürkçüoglu Eulogizing Jalâl Al-Dîn Al-Rûmî, by Emine Terzioglu).