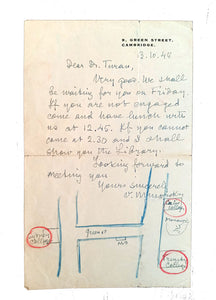 Autograph letter signed 'V. Minorsky', addressed to [Osman] Turan who was Turkish academician and historian, (1914-1978).
$42500

$425.00
Tax included.
Shipping
calculated at checkout.
---
---
VLADIMIR FEDOROVICH MINORSKY, (Russian orientalist and diplomat), (1877-1966). 
Letterhead '9, Green Street, Cambridge', Dated 13.10.1948, Cambridge, England, 1948.
Original autograph letter signed by Vladimir Fedorovich Minorsky, sent to Turkish professor and historian Osman Turan, (1914-1978), was born in year when World War I started. He had some bad conditions in his childhood. Being in Ankara in years when DTCF established was a great chance for him. He was trained by Fuat Köprülü. His studies in the first period were about pre-Islamic Turkish history. But his studies after he became associate-professor were about Seljukians. There isn't a better studying in this field yet than his studies. (Source: Osman Turan's Life (1914/17 - 1978) and Historiography, Tufantoz). Letter has 12 lines in front, and 4 lines on verso, in English completely. It has a plan of a library, probably in the UK which shows Trinity and Sydney Colleges, etc. Letter says: "Dear Dr. Turan, Very good. We shall be waiting for your on Friday. If you are not engaged come andd have lunch with us at 12.45. If you cannot come at 2.30 and I shall show you the Library. Looking forward to meeting you. Yours sinccerely, V. Minorsky'. "When you come to No 9 push the door in front of you...". Repaired margins. Minorsky was a Russian Orientalist best known for his contributions to the study of Persian and Kurdish history, geography, literature, and culture. Minorsky was born in Korcheva, in the Konakovsky District of the Russian oblast of Tver, northwest of Moscow on the upper Volga River, a town now submerged beneath the Ivankovo Reservoir. There he was a gold medallist of the Fourth Grammar School. In 1896 he entered Moscow University to study law, graduating in 1900, then entered the Lazarev Institute of Oriental Languages where he spent 3 years preparing for a diplomatic career. He made his first trip to Iran in 1902, where he collected material on the Ahl-e Haqq. In 1903 he entered the Russian Ministry of Foreign Affairs, serving 1904–1908 in Persia (now Iran), first in the Tabriz Consulate-General and then the Tehran Legation, and 1908–1912 in Saint Petersburg and Tashkent. In 1911, jointly the Four-Power (British, Russian, Turkish, and Persian) Commission, he carried out a mission in North-Western Persia to delimit the Turko-Persian border, and also published a monograph on the Ahl-i Ḥaqq religion for which he was awarded the Gold Medal of the Ethnography Section of the Imperial Society of Natural Sciences in Moscow. One of the most important Kurdish manuscripts he obtained during this period was The Forqan ol-Akhbar, by Hajj Nematollah, which he later wrote about in "Etudes sur les Ahl-I Haqq, I.", Revue de L'Histoire des Religions, tome XCVII, No. 1, Janvier 1928, pp. 90–105. His surveys in Iran also provided invaluable material for his 1915 work, Materialï dlya izucheniya vostoka (Materials for the Study of the East), published by the Imperial Russian Ministry of Foreign Affairs, St. Petersburg. From 1915-17 he served as Chargé d'affaires in the Russian Legation at Tehran. As the Bolshevik Revolution of 1917 made problematic his return to Russia, in 1919 he moved to Paris where he worked at the Russian Embassy. There his expertise in Middle Eastern and Caucasian affairs was useful during the Versaille and Trianon peace settlements. In 1923 he began to lecture on Persian literature at the École nationale des langues orientales vivantes, where he subsequently taught Turkish and Islamic history. In 1930 he was named Oriental Secretary to the 1931 International Exhibition of Persian Art at Burlington House, London, and in 1932 was made a lecturer in Persian at London's School of Oriental Studies. In 1933 he became Reader in Persian Literature and History, University of London; Professor of Persian in 1937; and in 1944 retired. During World War II, SOAS had evacuated to Christ's College, University of Cambridge, and there the Minorskys retired apart from a year (1948-49) at Fuad University, Cairo. In 1934 Minorsky was one of the distinguished participants in the Ferdowsi Millenary Celebration in Tehran. Minorsky received num...
ALS Autograph letter signed Turkology Turkic / Turkish history