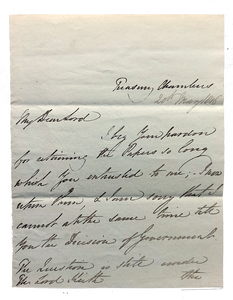 Autograph letter signed to Admiral Lord Keith, apologising for keeping the papers so long, stating that "the question is st" by Charles Arbuthnot
$42500

$425.00
Tax included.
Shipping
calculated at checkout.
---
---
CHARLES ARBUTHNOT, (Diplomat and Politician), (1767-1850).
Original Manuscript Autograph Letter Signed, Treasury Chambers, 1816. 
Original autograph letter signed (ALS) by Arbuthnot. Treasury Chambers, 20 May 1816. 24x18 cm. 2 p. Charles Arbuthnot, (1767- 1850), diplomat and Tory politician. He was Ambassador to the Ottoman Empire between 1804 and 1807 and held a number of political offices. He was a good friend of the Duke of Wellington. His second wife, Harriet, became a hostess at Wellington's society dinners and wrote an important diary cataloging contemporary political intrigues. Arbuthnot also held a number of diplomatic postings, notably as consul general in Portugal between 1800 and 1801, as Minister to Sweden. He was appointed on 6 June 1804 as Ambassador to the Ottoman Empire and left Constantinople on 29 January 1807. In 1804 he was sworn of the Privy Council. 
Signed by the author.
The Ottoman Empire Foreign affairs Autograph letter ALS Ambassador