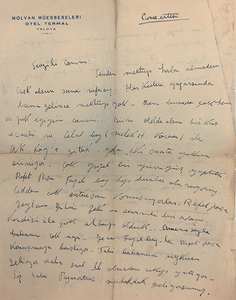 Autograph letter signed 'Sükriye', telling her trip in Yalova city with her father Cafer Fahri Bey, Celal Sofu, Refet Pasha and Fazil Bey, sent to Turkish paintress Fatma Tiraje Dikmen, (1925-2014).
$22500

$225.00
Tax included.
Shipping
calculated at checkout.
---
---
SÜKRIYE DIKMEN, (Turkish female painter), (1918-2000).
"Molvan Müesseseleri Otel Termal, Yalova" Letterhead., [ca. 1940s], Yalova.
Original manuscript autograph letter signed by Turkish female painter Sükriye Dikmen, addressed to her sister Tiraje Dikmen who was a painter as well. On a paper with letterhead 'Molvan Müesseseleri Termal Otel in Yalova' and watermarked 'Extra Strong'. 2 p. She mentions a trip to Yalova and its villages with her father Cafer Fahri Bey, Celal Sofu (Melek Celal Lampe's husband), Refet Pasha, Fazil Bey, and what a clever man Refet Pasha is when he speaks especially (like a devil!). She wants a corset from her sister. Sükriye Dikmen was a Turkish female painter who is known for her portraits of women and young girls. She was born in İstanbul in 1918. Her father was Cafer Fahri Bey of Batum, a scientist of the Republican era. She is the older sister of painter Tiraje Dikmen, and the nephew of Ali Dikmen, a member of the Ottoman parliament Meclis-i Mebusan, and later a member of the Grand National Assembly. Dikmen received her pre-university education at the Robert College in Arnavutköy finishing in 1942. Six years later in 1948, she completed her education at the Painting Department of the State Academy of Fine Arts Istanbul, and then went to Paris, France. In 1953, she graduated from the Art history Department of the Ecole du Louvre in Paris and worked three years with Fernand Léger and two years with Sengier Chastel and Roger Chastel. In 1953, she opened her first solo exhibition, and the next year she had her first solo exhibition in Turkey. In 1957, Dikmen participated in the exhibition of a contemporary Turkish art exhibition in Edinburgh, Scotland, and then in similar exhibitions during 1962 in Paris, Brussels, and Vienna. In 1968, she organized a retrospective exhibition gathering both her old and new works.