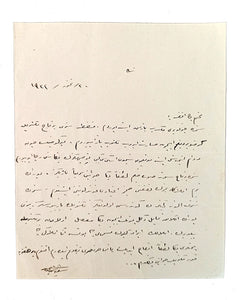 Autograph letter signed 'Sükriye Serafeddin' to an unnamed recipient.
$62500

$625.00
Tax included.
Shipping
calculated at checkout.
---
---
SÜKRIYE SERAFEDDIN, (Ottoman princess, The daughter of Prince Yusuf Izzeddin Efendi), (1906-1972).
20 July 1924
Original autograph letter signed (ALS) by Ottoman princess 'Sükriye Serafeddin'. 17,5x14,5 cm. In Ottoman script (Turkish with Arabic letters). 1 p. [in four]. Bifolium. The letter starts with 'Huve' and it has 12 lines. She mentions a letter that was sent by this unnamed recipient to 'Serafeddin' who is probably from the Ottoman dynasty. Sükriye Sultan was an Ottoman princess, the daughter of the heir to the throne Sehzade Yusuf Izzeddin, son of Sultan Abdulaziz, and Leman Hanim. Sükriye Sultan was born on 24 February 1906 in Çamlica Palace. Her mother was Leman Hanim. She was the second child, and eldest daughter born to her father and the eldest child of her mother. She had two younger siblings, a brother, Sehzade Mehmed Nizameddin, two years younger than her, and a sister, Mihrisah Sultan, ten years younger than her. She was the granddaughter of Abdulaziz and Dürrünev Kadin. 
The Ottoman Empire Ottoman dynasty Princess Royalty Autograph Manuscript