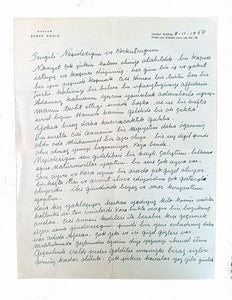 Autograph letter signed 'Seref Akdik'.
$17500

$175.00
Tax included.
Shipping
calculated at checkout.
---
---
SEREF AKDIK, (Turkish impressionist painter), (1899-1972).
Ressam Seref Akdik - 8 - 11 - 1967, Istanbul, Kadiköy - Moda.
Original autograph letter signed (ALS) by Turkish artist Seref Akdik sent to 'Nesidecigim ve Korkutcugum'. 30x23 cm. In Turkish. 2 p. He describes some of his travels in Turkey and started to paint some still-life paintings, especially of quince and black grapes. A long letter by Akdik. "Seref Akdik is a Postwar & Contemporary painter. Their work was featured in exhibitions at the Doku Art Gallery, Istanbul, and the Cer Modern. Seref Akdik's work has been offered at auction multiple times, with realized prices ranging from $11,756 USD to $28,091 USD, depending on the size and medium of the artwork. Since 1998 the record price for this artist at auction is $28,091 USD for Keman Kalesi ve Pazari, mountain village scene, sold at Bill Hood & Sons Art & Antique Auctions in 2016. In MutualArt's artist press archive, Seref Akdik is featured in Istanbul Modern Collection at Istanbul Airport, a piece from The Hürriyet in 2019.". (Source: Mutual Art). Seref Akdik was born in 1899 and was primarily inspired by the 1900s and 1910s. The first decades of the twentieth century were characterized by vibrant developments in pictorial art. It was the era of post-Impressionism and of experimentation, including the first forays into Expressionism and Abstraction. Many different groups of artists or loosely associated communities of the avant-garde in a number of major cities around the world evolved different modes of these key innovations. The first twenty years of the Twentieth Century can be seen to be among the most productive, and are noted as the time in art history when modern and modernist ideas began to take hold of cultural production. The new order and rationality, alongside mechanization in modes of production, saw art's parallel discipline of architecture develop extraordinarily in the work of designers such as Le Corbusier and Gerrit Rietveld. It was the era of the Bauhaus and the idea of a common discipline across all modes of creative arts. Most, if not all, of the significant art movements we associate with modern and contemporary art, can be viewed to source many of their key founding philosophies in the astounding diversity of work produced during this time. (Source: Untitled Art).