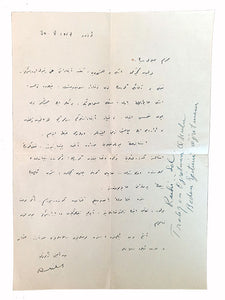 Autograph letter signed 'Ruhi Sel' sent to Turkish painter Celâl Tutant, (1910-1994).
$4500

$45.00
Tax included.
Shipping
calculated at checkout.
---
---
RUHI SEL, (Trabzon Ilkögretmen Okulu beden egitimi ögretmeni). 
Dated 'Trabzon, 30.8. 1957', Trabzon, 1957.
Original manuscript autograph letter signed by Ruhi Sel. 30x21 cm. In Ottoman script and a 'title' annotation in modern Turkish. 1 p. Full. Ruhi Sel was a Turkish educator, pedagogue, physical education teacher in Trabzon, and a specialist in children and juvenile games. Celal Tutant, (1910-1994), was a Turkish artist. He was born in Çorlu in 1910. He studied secondary education at Konya Primary School. He graduated in 1932. He completed his higher education in the Department of Literature at the Gazi Education Institute. He married his teacher Efser Ismail in 1933. He took painting lessons from Ali Çelebi, Turgut Zaim, and Cemal Tollu. Since 1946 he gave his pictures to Turkish state exhibitions. His works are in private and institutional collections. In the 1940s, young artists aiming for new development in Turkish painting art established a union of painters gathered under the name 'Yeniler' [i.e. 'New']. 'Yeniler' aimed to produce paintings by making researches within the scope of a topic they determined. Their aim was to make pictures that reflect the life characteristics of the sections of society. They merged with the idea of "Painting should turn towards social realistic values". 
Manuscript Education