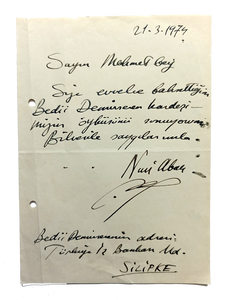 Autograph letter signed 'Nuri Abaç'
$9500

$95.00
Tax included.
Shipping
calculated at checkout.
---
---
NURI ABAÇ, (Turkish surrealist painter), (1926-2008).
Original Manuscript Letter, Istanbul, 1974. 
Original autograph letter signed 'Nuri Abaç'. 22x16 cm. In Turkish. 1 p. Letter includes 8 lines. Recipient name is Mehmet. He could be 'Mehmet Güreli (?)'. Dated 21.3.1974. He mentions Turkish short story writer Bedii Demirseren and that he sent Demirseren's story to Mehmet. He added Bedii's address to the end of the letter. Abaç graduated from Istanbul Fine Arts Academy in 1944. He opened his first exhibition in Mersin, then in Venice and Monaco. He was among the founders of the United Painters and Sculptors Association of Turkey. He worked with Leopold Levy. In his paintings before 1970, he portrayed the legendary and mythological creatures of Anatolian culture in a fairy-tale and surrealistic-fantastic style. 
Turkish painting History of art Artist Autograph letter signed (ALS) Manuscript