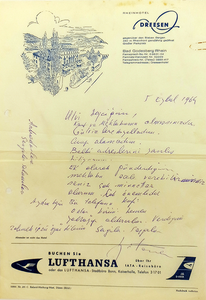 Autograph letter signed 'H. Taner', sent to Ulvi [Uraz].
$12500

$125.00
Tax included.
Shipping
calculated at checkout.
---
---
HALDUN TANER, (Turkish story, theater and cabaret writer, lecturer and journalist, one of the leading writers of Turkish literature in the Republican era), (1915-1986).
Dreesen Rheinehotel Letterhead, Germany, 1964.
Original autograph letter signed by Haldun Taner. 30x21 cm. In Turkish. 1 p. 16 lines in Turkish with a legible manuscript. On a hotel paper with the advertising of German Lufthansa Airways in Bonn. Rheinhotel engraved. Addressed to Ulvi Uraz, (1921-1974), who was a famous Turkish theater and cinema actor and director. Taner was a well-known Turkish playwright and short story writer. He was born on March 16, 1915, in Istanbul. After graduating from the Galatasaray High School in 1935, he studied politics and economy at the University of Heidelberg in Germany, until a serious health problem forced him to return to Turkey, where he graduated from the Faculty of German Literature and Linguistics in 1950. He also studied theatre and philosophy at the University of Vienna between 1955 and 1957 under the direction of Heinz Kindermann (1894-1985), an Austrian theater and literary scholar. As a well-disciplined writer accumulating a rich blend of culture, Taner wrote a great number of stories, generally humorous; essays, newspaper columns, travel writings and theatre plays, in particular, brought him several important awards including the New York Herald Tribune Story Contest First Prize (1954), the Sait Faik Story Award (1954), the International Festival of the Humor of Bordighera Award (1969), and so on. Among his plays, the most popular is Keşanlı Ali Destanı (Epopee of Ali of Keshan). His stories have been translated into German, French, English, Russian, Greek, Slovenian, Swedish, and Hebrew. Taner affected Turkish theater with the so-called Haldun Taner Theater named after his school of cabaret theater style. In 1967, together with Metin Akpinar, Zeki Alasya, and Ahmet Gülhan, he founded the Devekusu Kabere ("Ostrich Cabaret Theater"). He educated and worked with many actors and directors. In addition, he has a distinguished place in Turkish literature due to his essays, and newspaper articles.