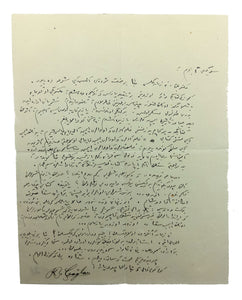 Autograph letter signed 'B. Çaglar', addressed to Turkish poetess Halide Nusret Zorlutuna, (1901-1984).
$32500

$325.00
Tax included.
Shipping
calculated at checkout.
---
---
BEHÇET KEMAL ÇAGLAR, (Turkish poet, educator and nationalist politician), (1908-1969).
ALS  Manuscript in Ottoman script, [N.d.: ca. 1945], [Ankara].
Original manuscript autograph letter signed (ALS) signed by Behçet Kemal Çaglar, addressed to Turkish female poet Halide Nusret Zorlutuna, (1901-1984). 21x16,5 cm. In Ottoman script. 1 p. 24 lines. Full. No date. It starts as "Sevgili ablam...". He mentions the book written by Zorlutuna published newly in its period, and requests critics from Zorlutuna for his article he works on. Çaglar graduated as a senior mining engineer in 1929. He served as a regional manager at MTA (Turkish Mining Survey and Research Department), and for a short while, was a Member of Parliament. In 1949, Çaglar published the magazine Sadirvan. He also directed the radio program "Siir Dünyamiz" (meaning Our World of Poetry in Turkish). Common themes in his poetry included Kemalism and populism. Behcet Kemal Caglar taught Turkish Literature at Robert College (Robert College is an American College founded in 1862 in Istanbul, Turkey).