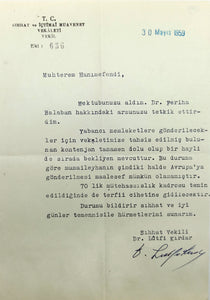 Autograph document signed 'Sihhat Vekili Dr. Lûtfi Kirdar', sent to Turkish poetess Halide Nusret Zorlutuna, (1901-1984).
$15000

$150.00
Tax included.
Shipping
calculated at checkout.
---
---
LÜTFI KIRDAR, (Turkish physician, statesman, soldier, Manisa and Istanbul governor, deputy and Turkish Health Minister), (1887-1961).
Manuscript - Autograph letter / Letterhead 'TC Sihhat ve Içtimaî Muavenet Vekâleti', Ist., 1959.
Original typescript document with manuscript autograph writings and signature by Lütfi  Kirdar (as Minister of Health Lütfi Kirdar). 21x15 cm. Sent to Halide Nusret Zorlutuna. In Turkish (modern Turkish with Latin script). 1 p. Lütfi Kirdar was born in 1887 in Kirkuk. He comes from a rooted and well-known family 'Kirdarzâdes'  of Kirkuk. After completing his primary and secondary education in Kirkuk and high school education in Baghdad, he came to Istanbul in 1908 and entered the Faculty of Medicine. After the Balkan War, Kirdar joined the war voluntarily and after the war he graduated from the Faculty of Medicine of the Darülfünûn -i.e. Istanbul Üniversitesi- (1917). With the outbreak of World War I, he joined the army. Kirdar who was participating in the National Struggle received the Independence War Medal. After the War of Independence, in 1923, he specialized in eye diseases in Vienna and Munich. He returned to Turkey in 1924 and was appointed to the Directorate of Izmir Health. At his own request, he was appointed to the eye clinic of Izmir Memleket Hospital in 1933. In 1935 he became a member of parliament from Kütahya. In 1936, Manisa was appointed as mayor and after that in 1938, to Istanbul. He held this last post for 12 years. Istanbul Harbiye Sports and Exhibition Palace, Open-Air Theater, Inonu Stadium in Dolmabahce, Taksim Square, Taksim Excursion, and Ataturk Boulevard were held during his period. In 1940, the Taksim Barracks was demolished. He was arrested on May 27th. He died of a heart attack on 17 February 1961 in Yassiada where he was tried. He was buried in Zincirlikuyu Cemetery after a funeral on 19 February 1961.