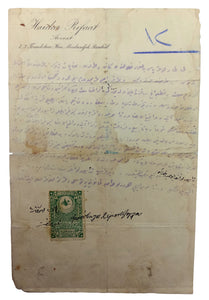 [ADS BY THE FIRST TURKISH TRANSLATOR OF MARX'S DAS KAPITAL] Autograph document signed 'Haydar Rifat', on a lawsuit related to a non-muslim Greek citizen's lands.
$42500

$425.00
Tax included.
Shipping
calculated at checkout.
---
---
HAYDAR RIFAT [YORULMAZ], (First Turkish translator of 'Das Kapital'), (1877-1942).
Letterhead 'Haidar Rifaat', Avocat 2,3, Foundokou Han, Meidandjik, Stamboul". [AH June, 27, [1]327], 1911.
Original manuscript autograph letter signed by Haydar Rifat Yorulmaz, on a lawsuit related to a non-muslim Greek citizen's lands. Handwritten corrections on the letter. Postal stamped. A Greek note. 20,5x13,5 cm. In Ottoman script. 1 p. Foxing on stamps on paper. Otherwise a good and exceedingly rare ALS with Rifat's rare signature. Haydar Rifaat [sic. Rifat] Yorulmaz, (1877-1942), was a Turkish lawyer, author, translator. He translated the most important texts of the western world such as Karl Marx's Das Capital, Tolstoy's Resurrection, Daudet's Sappho, Lenin's works, and books on anarchism firstly in Turkish literature. In addition, he wrote more than 15 books such as "Sovyetizm ve demokrasi", "Bolseviklik alemi" and others between the years of 1922-1939. He's one of the most important figure in the last period of the Ottoman Empire and Republican Turkey in terms of modernism and leftist movements.