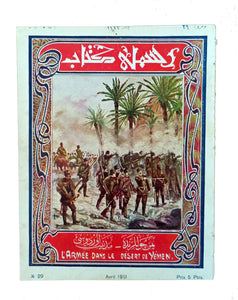 [A RARE PROPAGANDA COVER FOR OTTOMAN ARABIA: THE OTTOMAN ARMY IN THE DESERT OF YEMEN] Resimli kitab = Ressimli kitab: Directeur-Proprietaire Ubeidoullah Essad, Bureau: Rue de la Sublime Porte No: 31. No. 29., April, 1327. Vol. 5.
$32500

$325.00
Tax included.
Shipping
calculated at checkout.
---
---
RESSIMLI KITAB [i.e. ILLUSTRATED BOOK]. 
Resimli Kitab., Ist., [AH 1327] = AD 1910.
Paperback. With a pictorial cover. Large roy. 8vo. (23 x 18 cm). In Ottoman script [and French on the cover]. 355-442 pp., ills. Bilingual cover is written 'Medeniyet Ordusu Yemen çöllerinde' and 'L!Armee dans le Desert de Yemen' bilingual in Turkish with Arabic script and in French. [i.e. The Ottoman civilized army in the desert of Yemen]. Extremely rare.
Arabian Peninsula Yemen The Ottoman rule Turkish Arabia