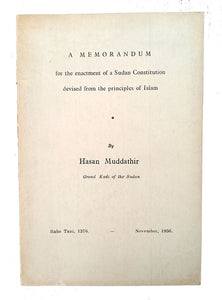 [AFRICA / SUDANESE GOVERNMENT / ISLAMIZATION] A memorandum for the enactment of a Sudan Constitution devised from the principles of Islam. Rabe Tani, 1376 - November, 1956.
$32500

$325.00
Tax included.
Shipping
calculated at checkout.
---
---
HASAN MUDDATHIR, (Grand qadi of the Sudan, Chief Muslim judge), (20th century)., Mc Corqudale (Sudan) Ltd., Sudan, 1956.
Paperback. Roy. 8vo. (24 x 17 cm). In English. [2], 21 p.

First and only edition of this extremely rare pamphlet documenting the first constitutional and judicial movements in the Islamization of Sudan started in the 1950s Sudanese society and government.

"The judicial system of Sudan survived the transfer of power to the independent state with few changes. Independence did, however, bring to the fore conflicts which had been kept under the carpet during the Condominium. The nature of the constitution became one of the most contested issues. The Transition Constitution, adopted 1st January 1956 (Independence Day), formalized a Westminster style of government, but it was never meant to be more than temporary. The debate on the new permanent constitution took many forms. In a long memorandum, Sheikh Hasan Muddathir, the Grand qadi of Sudan (i.e. the head of the sharia division of the judiciary) presented the Islamist position". (Source: Social Welfare in Muslim Societies in Africa by Holger Weis).

Sudan Africana Islamica Islam Law African Islam