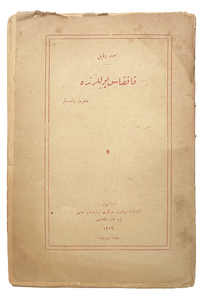 [POSTWAR TRAVELS TO CAUCASIA / RUSSIA / ARMENIAN QUESTION] Kafkas yollarinda: Hatiralar ve tahassüsler. [i.e., On the roads of the Caucasus: Memoirs]
$42500

$425.00
Tax included.
Shipping
calculated at checkout.
---
---
AHMED REFIK [ALTINAY] (1881-1937), Kitabhâne-yi Islâm ve Askerî Ibrahim Hilmi, Orhaniye Matbaasi, 1919.
Original wrappers. Roy. 8vo. (24 x 16 cm). In Ottoman script (Old Turkish with Arabic letters). 78 p.
First edition of this postwar first-hand and objective account of Altinay's travels he made between April 17 and May 20, 1918, to examine the Armenian issue on the spot and the massacres during WW1, conducted on both sides, he concludes that the massacres against the Armenians were an attempt by the Turkish government to "destroy the Armenians". He traveled to Trabzon, Gümüshane, Erzincan, Erzurum, Kars, Ardahan, and Batumi while he was the chairman of an impartial committee composed of foreign newspaper reporters formed to examine the events of that period. Altinay's book was also used as a source in the European press of the period. (Erol Kiliç).
The Ottoman Empire, which fought against the Russian army and Russian-backed Armenians on the Eastern front during World War I, was deemed defeated after the war and some political agreements came to the fore in the region. Altinay's account avoided discussing the political events that took place in the area in 1918. He recorded the folk songs, customs, and traditions of the region he went to in his notebook. Another striking issue in the author's diaries is that the Russians are praised. Although the two states were at war, Ahmet Refik Bey appreciated the engineering of the Russians and the importance they gave to art, history, and literature.
Overall, this is an original and significant firsthand account of the Armenian question and social structure of the postwar Caucasia including East Anatolia, Batumi, Azerbaijan, and Armenia.
Altinay was a Turkish historian, academic, writer, and poet, who gave history lectures at Darülfünun after the First World War. Later in life, Altinay worked on the Turkish History Committee, serving as head of the committee from 1924-27. In 1932 Altinay attended the I. History Conference. Altinay was discharged from Darülfünun in 1933 and he died in 1937.
Özege 9899.; TBTK 4265.