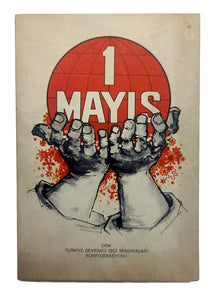 [FIRST APPEARANCE OF THE 1ST PRIZE WINNER TURKISH MAY 1 GRAPHIC ART] 1 Mayis: Dünya isçilerinin birlik, mücadele, dayanisma günü. Cover art by Orhan Taylan, (1941-).
$12500

$125.00
Tax included.
Shipping
calculated at checkout.
---
---
[DISK: TÜRKIYE DEVRIMCI ISÇI SENDIKALARI KONFEDERASYONU [I. E. TURKEY REVOLUTINARY WORKERS' CONFEDERATION OF TRADE UNIONS].
DISK: Türkiye Devrimci Isçi Sendikalari Konfederasyonu, Ist., 1976.
Paperback. Cr. 8vo. (20 x 14 cm). In Turkish. 63, [1] p., 3 unnumbered b/w plates. This is one of the early books on May 1 in Turkey printed by the Turkish Revolutionary Workers' Confederation of Trade Unions. Cover art illustrated by Turkish painter Orhan Taylan, (1941-). In the Ottoman Empire, the first celebration of Labour Day was organized in Skopje in 1909. In Istanbul, Labour Day was first celebrated in 1912. No celebrations could be organized between 1928 and 1975. On 1 May 1976 the Confederation of Revolutionary Trade Unions of Turkey (DISK) organized a rally on Taksim Square with mass participation one year ago "Bloody First May" which was an attack on leftist demonstrators on 1 May 1977 (International Workers' Day) in Taksim Square, Istanbul, Turkey. This booklet was printed for the commemoration of this celebration. Orhan Taylan was born in Samsun, to an artist mother in 1941. Graduated from Robert College (1960) and the Fine Arts Academy of Rome (1965). First solo painting exhibition in 1968. Took leading positions in artists' organizations (1975-1978). Organized mural painting symposiums and executed several murals (1976-80). His paintings were exhibited in London, Amsterdam, and Moscow within Turkish Highlights exhibitions between 1988 and 1990. Aside from regular exhibitions in Istanbul and Ankara, his works were also shown in solo gallery exhibitions in Paris, New York, Geneva, and Athens. Orhan Taylan exhibits mainly figurative oil paintings, and occasionally metal sculptures and drawings. Lives and works in Istanbul. During the 1971 Military coup, taken in custody on summer midnight together with his wife and cartoonist Tan Oral. All his archives and hundreds of books destroyed. 1977 Group exhibitions in Paris and Berlin. The May 1 poster wins 1st prize in the International Poster Competition of the World Federation of Trade Unions, Prag. (Source: Turkish Painting - Visual Art Encyclopedia). This is the first appearance of this art before it's winning the prize in 1977. Rare.