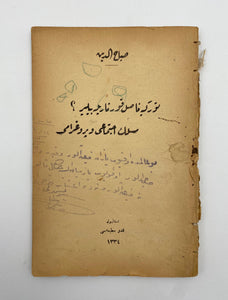 [THE LAST PERIOD OTTOMAN UTOPIA: A LIBERAL VISION] Türkiye nasil kurtarilabilir? Meslek-i içtimaî ve programi. [i.e. How can Turkey be saved?]
$27500

$275.00
Tax included.
Shipping
calculated at checkout.
---
---
PRINCE SABAHADDIN, (1877-1952), Kader Matbaasi, Istanbul, [AH 1334] ) 1918.
Original wrappers. Taken from a volume. Wear on spine and pencil note on front cover. Overall a good copy. Foolscap 8vo. (17 x 12 cm). In Ottoman script (Old Turkish with Arabic letters).

First edition of this exceedingly rare and early utopian work containing the future vision of Sabahaddin (1879-1948), who was a prince to the Ottoman Palace and sociologist, in search of a just and sustainable order in the last years of the state.

Prens Sabahaddin was born in Istanbul in 1879. His mother was Seniha Sultan, daughter of Ottoman Sultan Abdülmecid I, and Nalan-î Dil Kadin Efendi. His father was Mahmud Celaleddin Pasha. Prince Sabahaddin, nephew of Sultan Murad V, Abdul Hamid II, Mehmed V, and the last Sultan Mehmed VI, had a versatile education at the Ottoman palace and is considered the founding father of Ottoman liberalism. Sabahaddin fled in late 1899 with his brother and father, who had fallen out with Abdul Hamid II, first to Great Britain, then to Geneva, the center of opposition to the Ottoman Sultan.[citation needed] After a warning by the Federal Council in Geneva in 1900, they left and went to Paris and London. Sabahaddin advocated revolutionary violence and led the opposition in exile. During the first phase of his career in political opposition (1900-1908) he sought unity between Christians and Muslims and met with Muslim and Christian leaders. He received support for the cause of the Young Turks. During this time he met Edmond Demolins and became a follower of the school of social sciences. Sabahaddin advocated liberal economic policies in his Tesebbüs-ü Sahsi ve Adem-i Merkeziyet, which became a rival to Ahmed Riza's Committee for Union and Progress. This division plagued the Young Turk movement before 1908 and would provide the central dispute in the more institutionalized political discourse of the Second constitutional era. After the Young Turk revolution and the seizure of power by the Committee of Union and Progress in 1908, he returned to the Ottoman Empire. His Liberal Party was banned in 1909 and in 1913 he had to flee again. In the first World War I, he spent as head of the enemy in western Switzerland. In 1919 Sabahaddin returned in the belief back to realize his political vision, to Istanbul, but was ultimately banned in 1924 by the victorious Nationalists under Mustafa Kemal (Atatürk). His project of a democratic Turkey contained means of decentralization and private initiative, elements of the social theories of Frederic Le Play and Edmond Demolins. In 1924, after the establishment of the new Republic of Turkey, he was exiled from Turkey by law which expelled all the living members of the Ottoman Dynasty on March 3rd, 1924, and thus, from 1924, Sabahaddin had to live in retirement in Switzerland. In his autobiography "The Witness" (1962, first edition; 1974, revised and enlargened the second edition), John G. Bennett notes that in his later years, he had become an alcoholic because of his frustrations, disappointments, and exile out of Turkey and had died in great poverty and oblivion. He died in 1948, his body was kept in a metal coffin for four years in Switzerland.

Özege 21840.; OCLC 682781253, 948961828, 78949090.