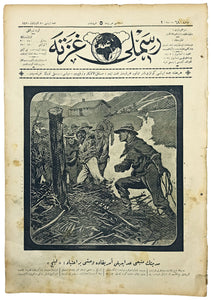 [LYNCHING IN FLORIDA ON OTTOMAN JOURNAL'S COVER] Resimli gazete. No: 68, Year: 2. 20 Kanunevvel 1340 [AD 20 December 1924]
$22500

$225.00
Tax included.
Shipping
calculated at checkout.
---
---
Owners and Editors: SÜLEYMAN NAFIZ, (1870-1927); IBRAHIM ALAEDDIN [GÖVSA], (1889-1949)., Resimli Gazete Matbaasi [Illustrated Journal Printing House]., Istanbul, [AH 1340] = 1924.
Original Ottoman illustrated journal. 40x27 cm. In Ottoman script (Old Turkish with Arabic letters). 8 p., richly ills. Taken from a volume. Foxing on pages, slightly chipped on hinges. Overall a very good copy.

Extremely rare early issue of an Ottoman illustrated journal depicting a lynching of colored American citizens in Florida by white Americans, published one year after the proclamation of the Republic in Turkey.

The first studies bearing social criticism on issues like slavery and abolition were made in the early years of the young Turkish Republic, which had refused the legacy of its imperial predecessor. In this period, several classics of American anti-slavery literature and contemporary works were translated for the first time, and texts on slavery and abolition in America were translated and published in Turkey.

The term "Lynch's Law" apparently originated during the American Revolution when Patriot Charles Lynch (1736-1796), a Virginia justice of the peace, ordered extralegal punishment of the Loyalists. Variations of the term, such as "lynch law," "judge lynch," and "lynching", were standard entries in American and British English dictionaries by the 1850s. In 1811, a man named Captain William Lynch claimed that the phrase, already famous, actually came from a 1780 compact signed between him and his neighbors in Pittsylvania County, Virginia, to uphold their own brand of law independent of legal authority. In the pre-Civil War South, members of the abolitionist movement and other people opposing slavery were sometimes targets of lynch mob violence. (Source: Wikipedia).