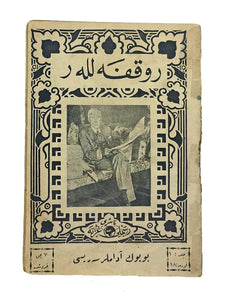 [FIRST ROCKEFELLER BIOGRAPHY IN THE MIDDLE EAST] Rokfeller [i.e. Rockefeller]. (Büyük Adamlar Serisi Cild 1 - Forma 18. Ibrahim Alâeddin Bey'in riyâseti altinda güzide bir hey'et-i ilmiyye tarafindan vücûde getirilmistir.
$32500

$325.00
Tax included.
Shipping
calculated at checkout.
---
---
IBRAHIM ALAEDDIN [GÖVSA], (1889-1949) and COMMISSION.
Resimli Gazete / Sebat Matbaasi, Istanbul, 1927.
Original wrappers. Cr. 8vo. (20 x 14 cm). In Ottoman script (Old Turkish with Arabic letters). 13 p., a b/w picture shows John D. Rockefeller sitting and reading a newspaper on the front cover, and three unnumbered b/w ills. Chipped on spine and a small tear on the back cover. Otherwise a good copy.

First and only edition of this rare biography of any member of the Rockefeller family in the Middle East. This exceedingly rare booklet (only three institutional paper copies) contains a brief biography of John Davison Rockefeller Sr., (1839-1937), known as an American philanthropist and the richest man in the world of his time.

"Büyük Adamlar Serisi" [i.e. The "Big Men" series] consists of about 41 small books. They were all published in the same year (1927) by a delegation under the presidency of Gövsa and some of them were written by him personally. This series was groundbreaking since biography was not a much-explored genre in the Ottoman Empire and Turkey.

Ibrahim Alaeddin Gövsa was an Ottoman / Turkish writer, educator, and poet who is known for his biographic and encyclopedic studies.

Özege 17040.; Three paper copies in OCLC: 460160558 & 79161461.