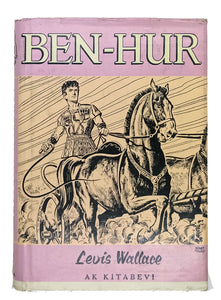 [FIRST TURKISH "BENHUR" IN THE AGE OF THE POPULAR HISTORICAL NOVEL] Ben-Hur. [i.e. Ben-Hur: A tale of Christ]. Cover ills. by Nihat Öcal.
$27500

$275.00
Tax included.
Shipping
calculated at checkout.
---
---
LEWIS WALLACE, (1827-1905).
Ak Kitabevi, Istanbul, 1960.
Very attractive first Turkish edition of this 19th century American religious epic with its very scarce original pictorial dust wrapper. Two volumes in one. Cover illustration was made by Turkish contemporary artist Nihat Öcal, a famous cover illustrator of both Turkish and translated popular literature of the time.

Ben-Hur was originally published in 1880's America and translated into Turkish by a commission, after 80 years, in 1960. This is because one of the most famous movies of the US cinema industry, William Wyler's "Ben-Hur" adaptation that won the Academy Awards in eleven branches was shot in 1959. Soon its reputation spread across the world.

From the very beginning of modern Turkish literature, "historical novel", a sub-genre of popular novel was in great demand. Several writers already proved themselves in this genre like Abdullah Ziya Kozanoglu, Feridun Fazil Tülbentçi, Resat Ekrem Koçu, Oguz Özdes, Nizamettin Tepedelenlioglu and Nihal Atsiz. In 1960's Turkey, so many popular novels were written under the influence of the American popular literary industry. In this regard, Ben-Hur, as a great combination of popular fiction and religious/historical epic, was very welcomed in Turkey.

ABOUT THE AUTHOR AND THE IMPORTANCE OF BEN-HUR IN THE LITERATURE:

Lewis Wallace, (1827-1905), was an American lawyer, general during the American Civil War, governor of the New Mexico Territory, politician, diplomat, and author from Indiana. Among his novels and biographies, Wallace is best known for his historical adventure story, "Ben-Hur: A Tale of the Christ" (1880), a best-selling novel referred to as "the most influential Christian book of the nineteenth century".

Original bdg. with very rare dust wrapper. Cr. 8vo. (20 x 14 cm). In Turkish. 360 p. No copy in OCLC. Very scarce.