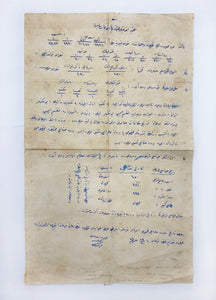 [AMERICAN SCHOOLS IN HARPUT] Historical autograph document on the inventory of post-war American schools and buildings and the non-Muslim population in the Harput Region
$1,25000

$1,250.00
Tax included.
Shipping
calculated at checkout.
---
---
MAJOR HAYREDDIN, Manuscript Historical Document, Elaziz (Elazig) - Harput (Kharput), [AH 1339] = 1923.
Original manuscript autographed historical document. 33x21 cm. In Ottoman script (Old Turkish with Arabic letters). 21 lines on 1 page. A legible Riq'a script.

Occasionally foxing on the paper, slightly chipped extremities, folded, a small transparent tape to the lower folded end. Overall a good document.

A rare manuscript document prepared by Major Hayreddin, who was on duty at the Harput war scene, upon the request of the Elazig Military Service, and containing the inventory of American missionary schools and buildings in the region in the post-war period, and information with the statistics on the non-Muslim population in 1923.

This signed historical document includes detailed information about the populations of Turkish, Armenian, and Assyrians under the classification of Catholic, Protestant, and Latin. The document gives the numbers of the churches, schools, mosques, masjids, fortresses, etc. with their historical information such as their architects and building dates. The information about schools has been given by making distinctions between boys - girls and formal education - night education. The statistics for the missionary schools and buildings left by the Americans are remarkable.

In 1852 the American Board of Commissioners for Foreign Missions established a theological seminary in Harput to educate clergymen for the Armenian Evangelical Church, and expanded it in 1859 to "American Harput Missionary College". To meet the growing demand for general education in the English language, the school's program was extended in 1878, and it was renamed "Armenia College". However, after 10 years, the Ottoman authorities urged to change the school's name, which became finally "Euphrates College". For the building of the college, $140,000 in funds were raised from the US Government and $40,000 from the local people in 1875. The facilities at the college consisted of a hospital and an orphanage in addition to a theological seminary and high schools for boys and girls. In 1891, the school shortly released a handwritten newspaper called Asbarez, which was soon forbidden by the Ottoman authorities.

In 1895, Kurds looted and burned the Armenian villages on the Harput plain, and in the same month the town was attacked and eight of the twelve buildings on the campus were burned down.

Following a change in the approach towards the Armenian population during the Second Constitutional Era of the Ottoman Empire, the Armenians received much more rights. In 1909, the college began to publish a newspaper called Yeprad (Euphrates in Armenian). A printing press was installed within the college and following several bulletins, but also religious and school books were printed in Armenian script. The college was an influential institution for the cultivation of the Armenian language during the Ottoman Empire and in 1913 the 1500th anniversary of the Armenian alphabet was celebrated with a large procession. With the support of German missionaries, the College inaugurated a Bible school on 1 October 1913. In 1915 several of the leading Armenian members of the faculty were arrested, tortured, and executed on trumped-up charges. The college buildings were then occupied by the Ottoman Military and initially used as a training camp, and later as a military hospital.

Euphrates College was officially closed shortly after the founding of the Republic of Turkey and nothing now remains of its buildings. (Wikipedia).

The Turkish transcription of the document:
Elazîz Ahz-i Asker Hey'et-i Riyâseti Cânib-i Âlîsine
1- Harb-i Umûmîden evvel Harput ve mülhakâtinda nüfusu kaydina nazaran:

Islâm
Zükûr-Inâs
11426-10622

Ermeni
Z-I
3990-3427

Protestan
Z-I
840-710

Süryani
Z-I
311-302

Katolik
Z-I
67-56

Latin
Z-I
76-90
nüfus bulundugu

2- Elyevm gayrımüslim milletlerden:
Ermeni zükûr mea' inâs       Süryani zükûr mea' inâs
270 490
nüfusu mevcuddur.

3-Milel-i gayrımüslimeyle müessesâtı ber-vech-i âtîdir:
Katoliklerin Protestan Ermenilerin
Mekteb Kilise Kilise Kilise Mekteb
1 1 1 3 1

Amerikalilar'in birçok binalari mevcud olup bunlardan zükûr içün 3 mekteb inâs içün de 3 mektebleri var idi: bu mektebler: ibtidâî, rüsdî, idâdî derecelerine munkasim imis bu mektebler leylî ne nehârî kisimlarina da munkasim ims bunlardan baska bir tane tevzî'-i mükâfat salonu olmak üzere büyük bir ebniye mevcuddur. Bundan baska ruhânî vazife içün … (vaaz … mahsus) bir tane ilm-i ilahî mektebi mevcud imis. Bir tane sanayî'-i muhtelifeye mahsus   sâkirdân içün bir de sanâyî' mektebi mevcud imis.

En eski cevâmî-i serîfeden ve mesâcidden bânîleriyle târîh-i insâlari ma'lum olanlar ber-vech-i âtîdir:

Esâmî-i cevâmî ve mesâcid
Târîh-i insasi
Bânîsi

Esediyye Câmî-i Serîfi 650 Es'ad Beğ
Kal'a 751 Mechûl
Sâre Hatun 993
Sâre Hatun Câmî-i Kebîr mechûl Muzafferüddin Sah

Mevcud mesâcidin ne târîh insâsina ve ne de bânîlerine âid hiçbir ma'lumât alinamamisdir. Mütebâkî cevâmî-i serîfeyle ne târîh insâlarina ve ne de bânîlerine dâir ma'lumât alinamamisdir. [1]291 târîh ve dört maddeyi muhtevî emirnâme-i kumandanîlerince  arîza-i cevâbîsi olup manzûr-i âlî-i kumandânîleri olmak üzere arz u takdîm kilindi ferman 29/30 Mayis [13]39 [1923]. Harput Marekesi Binbasi Hayreddin [Signature].