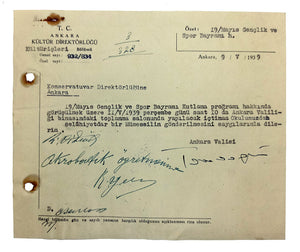 Typescript document signed 'Vali Tandogan', sent to "Ankara Konservatuvar Direktörlügü'ne" [i.e. The Directorate Ankara Conservatory], to request a representative for celebration of 'May 19'.
$12500

$125.00
Tax included.
Shipping
calculated at checkout.
---
---
NEVZAT TANDOGAN, (The fourth mayor and governor of Ankara serving between 1929 and 1946, who committed suicide upon a political scandal he was involved in), (1894-1946).
TLS - Letterhead ''TC Ankara Kültür Direktörlügü", Ank., 1939.
Original TLS by Nevzat Tandogan. Oblong: 16,5x20 cm. In Turkish. 1 p. Punching holes on a right side folded traces. Dated 9/V/1939. Six lines. Tandogan was the fourth mayor and governor of Ankara serving between 1929 and 1946. He committed suicide upon a political scandal he was involved in. Abdullah Nevzat Tandogan was born into a wealthy family in 1894 in Istanbul, then Ottoman Empire. His father was from Sarajevo and his mother from Belgrade. He completed his education at Istanbul Law School, today Istanbul University Faculty of Law. After the Surname Law was enacted in Turkey in 1934, he adopted the family name Tandogan. He was married and had two children. During World War I, he served as an intelligence officer in the Ottoman Army in Istanbul. In the later years of the war, he began a career as a school teacher in Istanbul. In 1918, he entered police service. After serving at leading posts in various police departments, he quit. He became Governor of Malatya in 1925 before he entered politics from the Republican People's Party) (CHP) and was elected into the Grand National Assembly as deputy of Konya in the 1927 general election. On November 4, 1929, he resigned from his parliamentary seat to take office as Governor of Ankara. Serving also as the acting city mayor, he was uninterrupted 17 years long in this position. Tandogan was a civil servant and politician of the single-party era (1923-1945). The political philosophy of the era was understood so as "the government has the authority to determine and to do what is useful and best for the country, knowing better than everyone, especially the folk". Tandogan's political attitude is described best with his words he said to a young man as "We constitute Communism in this country if it is necessary". Tandogan had a dissenting opinion to the 1929 Jansen Plan by German architect and urban planner Hermann Jansen(1869-1945). The plan proposed the integration of green belts and areas within the rapid-growing new capital of the newly established Republic for promoting a healthy urban environment. The realization of Ankara's master plan as different from the Jansen Plan is his practice. In 1945, a murder occurred in Ankara, which became known as the "Ankara Murder" (Turkish: Ankara Cinayeti). Tandogan was accused of intentionally and deliberately covering the murder case, in which Haşmet Orbay, the son of the then Chief of the General Staff Kâzim Orbay, was involved. Tandogan was summoned to court to testify after the case was discussed in a question time in the parliament. It was believed that calling a high-ranked civil servant or politician to the witness stand in a court trial was unthinkable during the single-party era before 1945. The next day, on July 9, 1946, Nevzat Tandogan committed suicide by shooting himself at home with a firearm. The main square in Ankara, which hosted many political party rallies and protests, was named in his honor. In 2012, the city council of the metropolitan municipality changed the square's initial name from "Nevzat Tandogan Square" to "Tandogan Square". A public park in Batikent neighborhood of Yenimahalle, Ankara as well as a street in Kavaklidere neighborhood of Çankaya, Ankara is also named after him.